This Post builds on an earlier Tech Tuesday post regarding Model Preparation and will be followed by a post on Analyzing the Data, which gives us insight into Qnect's reports. If you're not subscribed to our Blog, please do. You will get inbox notification. You can also follow us on Social Media where we also post this information.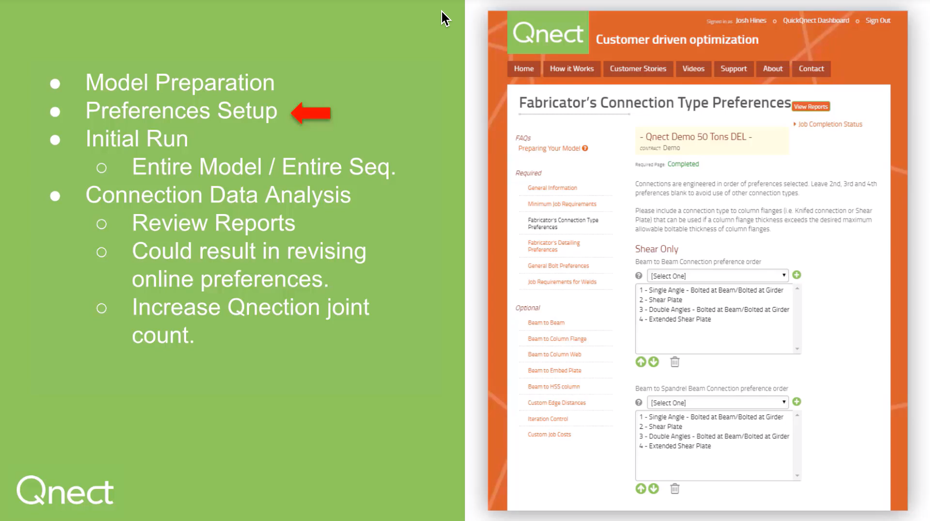 In this video, we explain best practices for following the prescribed checklist, which will help you deliver your projects faster, smarter and with more confidence.
TRANSCRIPT:
next we are going to get into following the prescribed checklist in this checklist
we will go through a start to finish approach using Qnect in a Tekla Structures model
so we've already gone through how to prepare your model
we'll go ahead and prepare our model and then we will move into preference setup
for preference setup we are going to go in to the design documents. [We will] find out all the criteria required to set up our preferences - whether there are loads indicated on framing plans or maybe in the general notes we are told to use a UDL factor so on and so forth
we will also look at material grades bolt sizes all of that type of information to go ahead and set up our preferences online
then we will get into the initial run
most of our clients will do one initial run and then they will start vetting the remaining connections
to do an initial run we either select the entire model or an entire sequence that we're going to be starting with in that model
go ahead and do button one button two to bring that information back in
then we will get into connection data analysis
typically we will get into reviewing reports looking at "no connection reports" to find out why certain things did not connect
then we typically go back into the Preferences make some revisions if needed or re-prep some things in the model and we can then rerun whether it is an entire rerun of the initial run or whether it's just vetting any other connections that could not be completed in that initial run
in most cases we will be able to increase the connection joints in doing
Thanks! Need to know more? Contact us!