What does the checklist for Basecamp look like? Well, for the Tekla Basecamp, it's not hiking boots, tents, water and food but rather comfortable shoes, note pads and updated Tekla Structures and Qnect loaded on laptops. See why so many are saying "Steel Just Got Smarter" with Qnect.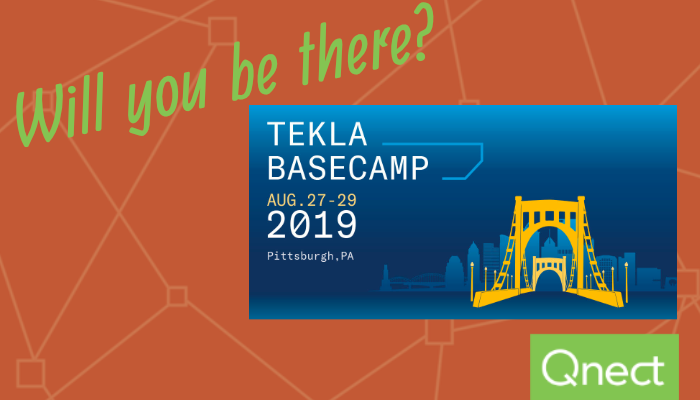 Tekla Basecamp 2019 will take place August 27-29 at the Pittsburgh Wyndham Grand Hyatt. Qnect is an exhibitor and will have our booth available for short demos for those new to Qnect and technical support for our current customers. We won't have much time between sessions to showcase all Qnect has to offer so please consider setting up a meeting with us during the event prior to arriving.
New to Qnect? Here's a quick overview:
QuickQnect®, an intelligent, cloud-based connection app gives fabricators, detailers and engineers fast and flexible connections with significant cost and schedule savings. In minutes, users can connect most steel buildings without capital cost and with minimal initial training.
Two important benefits of Qnect include: Preference Optimization and Bolt Optimization. Optimization provides multiple, extremely quick runs, that compares different connections and bolt options and then prioritizes all within AISC requirements. A 20-50% reduction in bolt count, bolt holes, time for bolting, machine use, skilled laborers needed and erection time is common.
Result: Your team confidently wins more business, while reducing your costs and increasing per-project profits.
From the Tekla event registration page: Tekla Basecamp 2019 provides you with a unique opportunity to fine-tune your 3D modeling techniques, gain greater insight into emerging construction technologies and network with industry peers. The knowledge you gain during the educational sessions will increase your skill set and productivity making you an even more valued industry professional.
Tekla Basecamp 2019 is designed to deliver meaningful, relevant content but it will not be all work. We are planning a great excursion which includes a happy hour cruise through the rivers of Pittsburgh as well as a dinner and a tour of the Pittsburgh Steeler's Heinze Field.
What: Tekla Basecamp 2019
When: August 27-29, 2019
Where: Wyndham Grand Hyatt
Sessions will address a wide range of issues including:
Insights from industry leaders
Workflow presentations covering the entire project lifecycle
Technical demonstrations of new tools
Reviews of existing features and proposals for new features
Helpdesk station to assist with technical queries
In addition to all of the sessions, there is the usual:
Networking opportunities with steel, concrete and engineering
Exhibitors showing how they work with Tekla Structures and Tekla PowerFab
Liaise with Trimble staff to identify new business opportunities