"Great to see Qnect's progress"
"We look forward to working with you on this project"
"Safe travels home. See you in our office next month"
These were a few of the parting quotes a week ago as Tekla Basecamp 2019 was coming to an end. If you did not attend, you missed a great gathering of talented engineers, detailers and fabricators...even a few GCs were in the audience. Of course, there were also great "exhibitors" on hand to share the latest and greatest offerings to the Tekla users.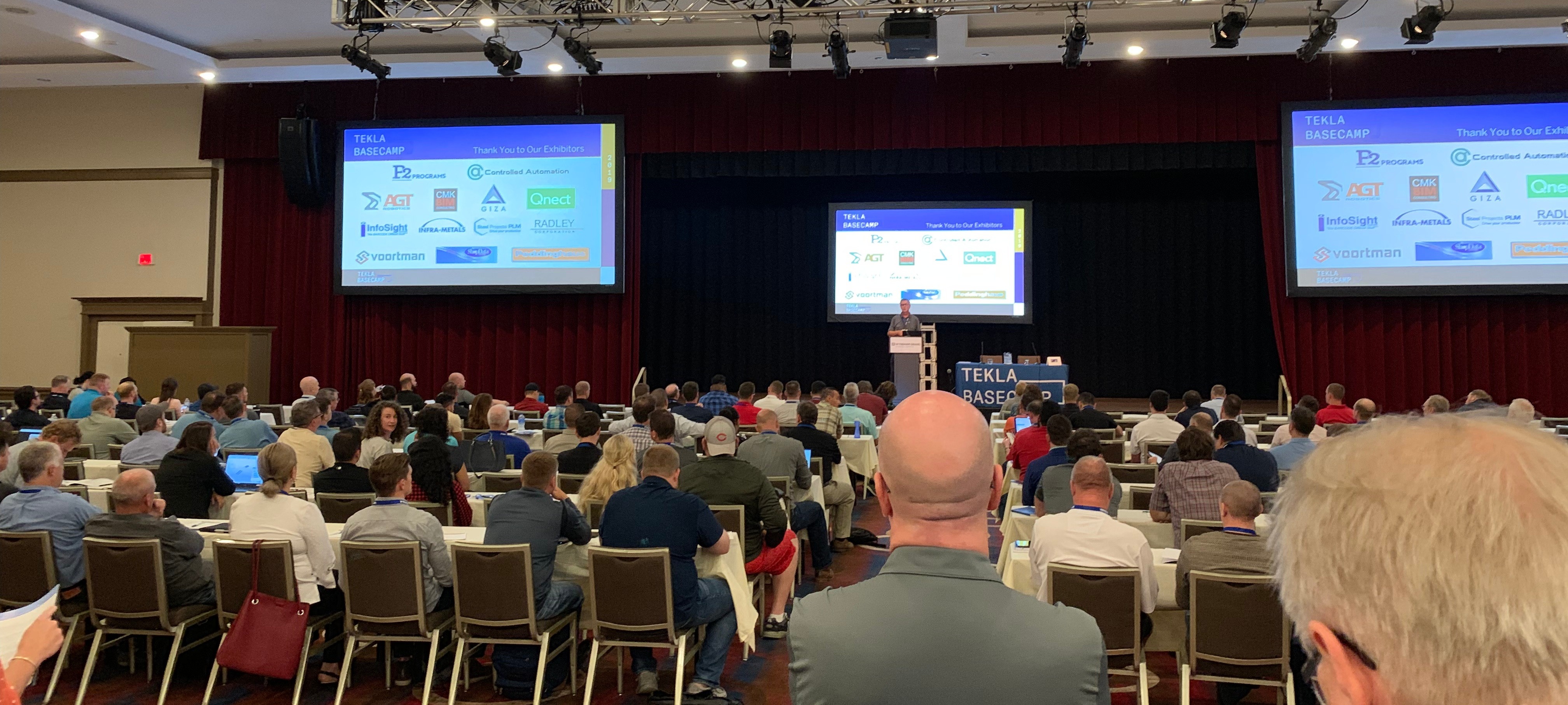 Carl Taylor, Tekla Business Director, opened the event on Tuesday afternoon with a warm welcome to all the attendees. After a bit of housekeeping, he brought Roz Buick, senior vice president responsible for Trimble's Buildings business, on stage. She demonstrated how Trimble is "Transforming Construction."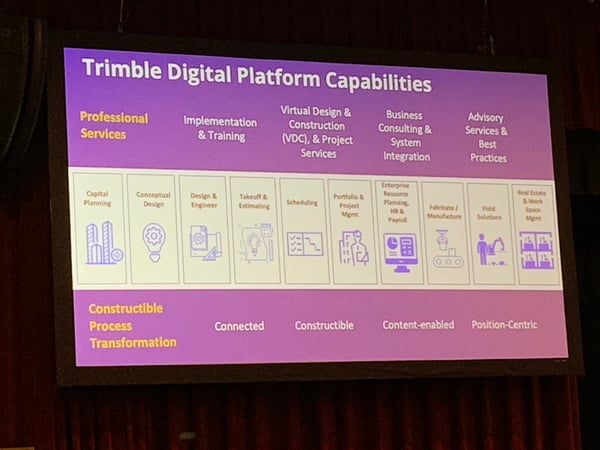 Later in the week, we got to experience hands-on transformation with Kim Nyberg, Technology Director at Trimble. His presentation titled "Technology 2020 and Beyond, Transforming the Construction Industry" went way beyond the PowerPoint deck. Nyberg's presentation took the audience from where technology was to where it is going. Where is construction technology going? This would include mixed reality, human-machine interfacing, machine learning, advanced visualizations and more.
Of course, not everything was about the future but plenty on the present. For the steel audience, Dave Hiddeman and Lee Snyder provided great insights into "Estimodeling Workflows" as well as several sessions on "What's New…Modeling and Drawing" in different sessions.
With Tekla's technical team and partners (such as Qnect) you can truly say that development on the platform never sleeps. The session titled "Power of API" drew a large crowd and showcased some of the industry's top talent with on-target, real-life examples.
This lead to sessions on "Localization and Collaborative Workflow Updates" and "Tekla Structures Tips and Tricks." One of the most anticipated sessions was the ever-popular, "Steel Development Priorities." Want to know what was discussed? Be in touch with us and we'll help you navigate to the right Tekla representative.
Evening events were on par with the learning sessions. We spent Wednesday evening at Heinz Field, which we arrived via a Happy Hour Cruise on all three rivers - the Allegheny, Monogahela and Ohio. For those that wanted, there were tours of the Steeler's locker room, player's tunnel to the field and the FedEx Great Hall. Plenty of food...and this is true for the entire event. If you went hungry or without caffeine at Tekla Basecamp it was your choice because snacks, meals and drinks were out most all the time.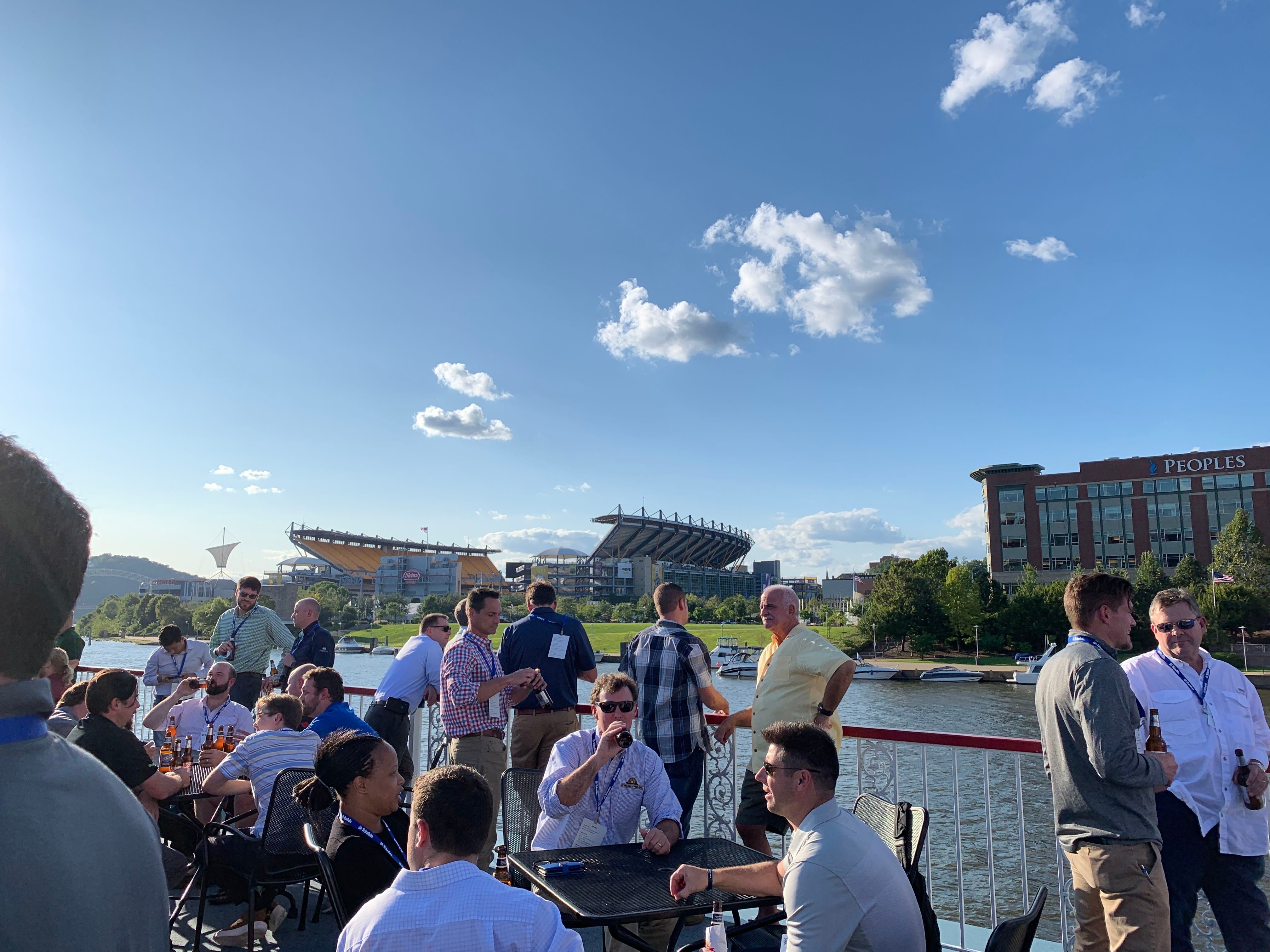 How else to end such an event but with an awards presentation? Well, they did. The 2019 North America BIM Award winners were announced Thursday morning. Who won? Please comment if you remember or if you'd like to know contact us.
Representing Qnect at this event included: Christian Erickson, Josh Hines, Aaron Bartlett and Dermot Kerin.
Enjoy a few more pictures....