This new feature allows the user to report only on the information in the model without having to choose which sessions you want to include in the report.The user runs the Sync Button at the top of Button 3 popup window. You to enter a Sync name and in about 5 seconds it is complete.
(Read full post and then scroll down view 4-minute video demo with transcript.)

In addition, we now allow reports that cross jobs. We have found users tend to use more than one job preference settings (job name) within a particular model. Now the customer can do a report by Sync which asks for Model name which makes approval much easier.
The new report page on the website now gives you the option of reporting by session (the old way) or by Sync name. If you choose to report by Sync name, you then choose which model.
On the left box will be a list of all Syncs that were run in the model chosen. You can choose one to many Syncs to move to the Include and Exclude boxes on the right. This gives the customer the ability to target what will show on the report.
Most customers will use this feature in the following way:
They will run a sync on the desktop after they are done with Phase 1 and call it "Phase 1 sync." They will then go to the web page report and run the Submittal Package report with the "Phase 1 sync" in the Include box. They then send to CE/EOR for approval.
They then work on phase 2 and get some revisions for the phase 1 section. When ready they run another sync and call it "Phase 2 sync."
They can then run a Submittal Package report with "Phase 2 sync" in the Include box and "Phase 1 sync" in the Exclude box. This will then report on just the new connections that were added to the model since the Phase 1 sync including revisions and without duplications on items that were already approved.
TRANSCRIPTION for Sync Feature
Qnect just launched a new feature for model sync.This feature will allow you to sync your connections to the server, to be able to read use reports based on the current connections in the model. Previously you could have only create reports as session names so you just select the session name and create reports out of that. This new sync feature will overcome the problems related to having some sessions that their connections are deleted or maybe some sessions you may have not imported it into the model [or] some components are excluded.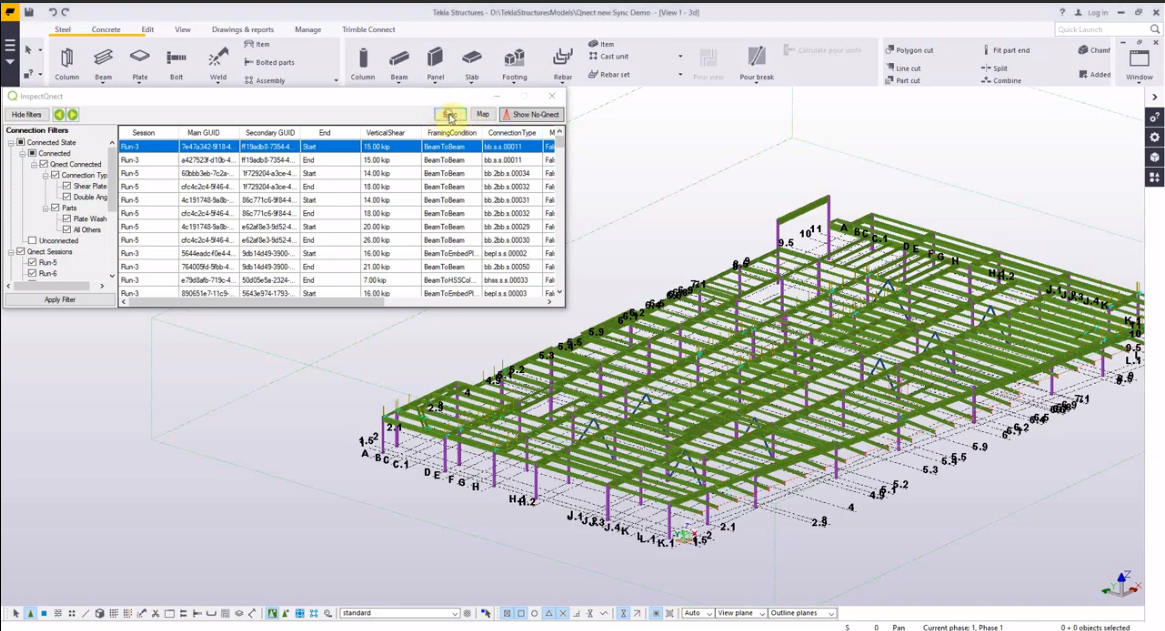 This sync tool will allow you to get reports exactly for the connections, Qnect connections in the model. To do that you click Button 3 and under Button 3 here there is a sync button.When I click that I should give a sync name so I'll call this Phase 5 and click on sync. In a couple of seconds the connections are now uploaded to the server.
If I go to the website now and under the reports tab here in the reports I as you can see the list has been changed. You can report by session name as the old way or now you can have a report by model sync name. In the model sync name you can choose the model name itself because you may have multiple models already link it to the same job job preferences.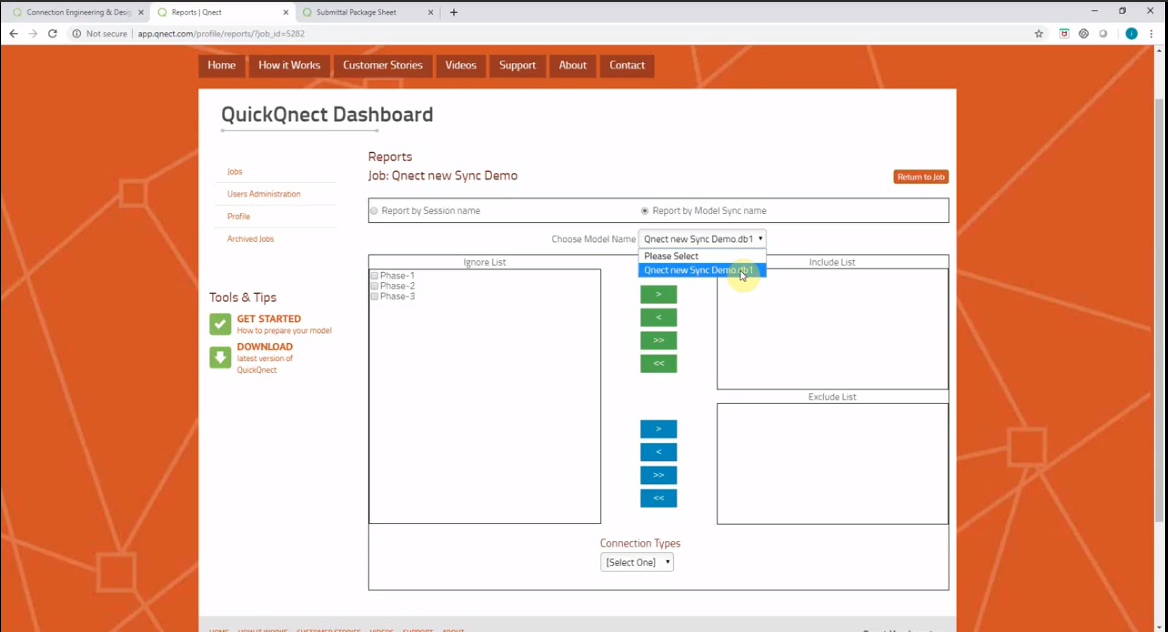 So I'm using this model here and here are the list of the sync sessions that I created. Recently I just did Phase 5 by also the 4, 3, 2 and 1. Here you can see two Include Lists box and Exclude List box. In this case if you want to show all the sessions for Phase 5 you include only Phase 5. If you want to show the difference between Phase 4 and Phase 5 you can choose include Phase 5 and exclude Phase 4, which basically if you created a submission for Phase 4 and later you want to submit Phase 5 but only the changes so you include Phase 5 and exclude Phase 4 from Phase 5. Then choose the connection type. I will choose all and then click on submit a package report for example this will show the difference between Phase 5 and Phase 4. Here are the reports.

A very useful feature. It will help you a lot to get exact reports out of your model. Also at any stage if you want to do more changes and do another submission its if you deleted some connections or you added created new sessions using button 1 you can always sync to the server again. Here by using the sync button and create new reports for the new sessions.
That's it and thank you for watching and you I hope you like this new feature.