It's not too often that someone like me, a marketer, has a reason to wear steel toe shoes. It's just not an everyday part of my job. But Friday, Sept 27 was not your typical day. It was AISC's SteelDay 2019, which only happens once a year.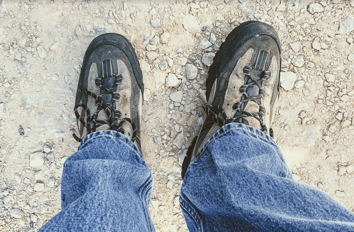 In the past, I've spent SteelDay in a few really cool spots including touring a Gerdau facility in Cartersville, GA and at Metalplate Galvanizing in Atlanta, GA.
This year, it was close enough to be my backyard - Dripping Springs (Drippin' if you're Texan), Texas. So after wrapping a few customer projects and a little end-of-the-week reporting, I ventured out for the 20-mile journey to Patriot Erectors.
Just a bit about Patriot before going on too much. Patriot Erectors, Inc. was founded in 1991. When they started, it was just "a truck, a welding machine, and a desire to provide the best steel erection services around." Today, they have "a fleet of trucks, several hundred welders, a few cranes, and a top-notch fabrication facility."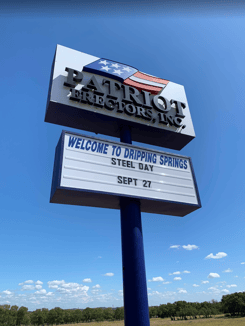 And according to their website, they are one of only two contractors in the state of Texas AISC certified in both erection and fabrication. Pretty cool.
I have to say, I did not know what to expect but it was certainly much bigger than I expected. Inside the dining tent, they had great table tops "Bringing Steel to the Table" (see the table top and lots of other pictures below) and plenty of food and beverage. Vendor tents were near including Hilti, Milwaukee tools, DeWalt tools and more. Several of the welding vendors were giving hands-on demos. This was great for the students.
Plenty of students, which is a big part of the SteelDay reach. Getting the younger folks involved and energized about the future of steel cannot be stressed enough. Steel is still growing. Steel is still very important. Steel continues to get smarter - mostly because of Qnect (shameless plug for a quick 2-min video here).
Inside their 60,000 sq. ft. steel fabrication facility it was a bit cooler but not much on this late September day in central Texas - I think it was 98 or 99. The shop was shut down of course so we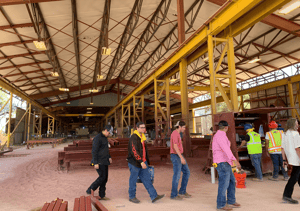 could tour and learn about the different stations and how Patriot Erectors operate. There's still paper there but also computers. I could not not think about the automatic fab shop and what that will look like. Yes, I said "will look like" because it's now longer if we will have a fully automatic structural steel shop but when.
A few faces in the crowd included folks from Tectonix Steel, Walter P Moore, Hilti, Austin Industries, AISC's Modern Steel Construction and more.
OK, so going back to my steel toe shoes...I do visit plants and customers when I'm able; it's a rewarding part of the job. Often, when I do visit fabrication plants, they are usually quite busy producing so I watch from the side and there's never a need for safety shoes, hard hats or protective glasses...but when I do go deeper into the fab shop, I'll be sure to document it!
Enjoy these pictures and thanks to AISC and Patriot Erectors. Good job all around!