Mass General Hospital's New Clinical Building
"Working with Qnect's top early connected model team, McNamara Salvia was able to deliver a conformed package of drawings, fully connected model, and details that streamlined the bidding process and allowed us to provide value directly to the owner in the form of optimized connections in a competitive environment."
– John J. Tracy, McNamara/Salvia, P.E., LEED® AP
This project, located on MGH's Main Campus in downtown Boston, will include 1,050,450 square feet of Gross Floor Area, creating space for 94 new beds and clinical facilities as well as approximately six below grade stories and 977 parking spaces (and new bicycle storage). We are grateful McNamara/Salvia decided to use us on this project and are excited to watch the new building come to fruition in the next few years.

McNamara/Salvia's utilization of Qnect's early connected model service likely saved around 7.4 million dollars, or 6.7% of the project cost. These savings would not have been realized had a conventional steel delivery method been used. By using Qnect's BIM optimization software when creating the early connected model, McNamara/Salvia saved around 4.5 million dollars in materials from exact material orders; 3.3 million dollars in reduced extras; 1.3 million dollars in reduced number of bolts in the model; and 264 thousand dollars in the reduction of erection picks. These savings were not only important to McNamara/Salvia because of the reduction in dollars spent, but because of the reduction in carbon emissions (947,969 kgs of Co2 or 3% of project emissions).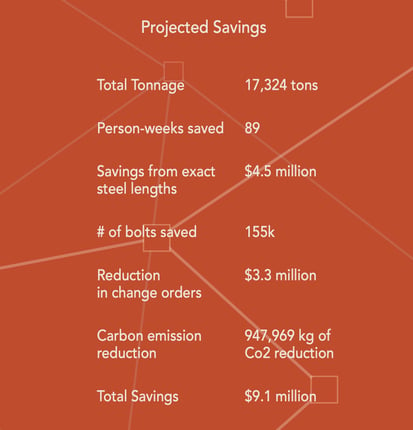 Want to learn more about our offerings? Reach out to us now or request a meeting with David Kowalski, our Sr. Account Manager, so we can get started on your next project.
Sources: