Burton Ohio gets Brand New PK-12 School with Optimized Qnections
Job summary
Job tonnage: 712 tons
Beam tonnage: 492 tons – 1,259 assemblies
4,943 bolts saved vs 6,754 non-Qnect standard spacing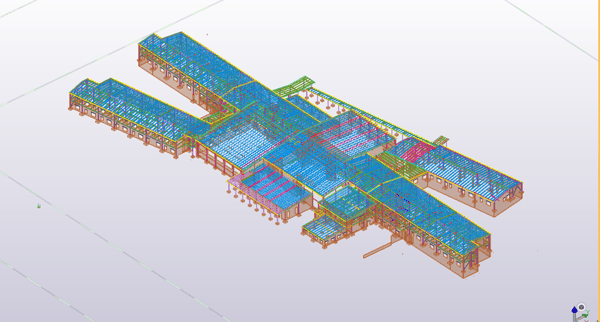 Here's what we found on the Bolt Optimization report:
Qnect connections – 1,632 – 65% connected
1,811 bolts eliminated
1,811 holes not punched in shear plates
1,811 holes not drilled in beams
431 copes eliminated
All Shear plates 3/8"
No Added welds
The above bolt savings is based on our analysis of individual UDL loads optimized for standard spacing vs a non-standard spacing. We are still optimizing the standard spacing by using a beam specific UDL versus a Shear connection table a CE might supply from a worst case scenario based on beam depth. If we compared the actual bolts used against a CE standardized load table based on beam size the saved bolts would have increased dramatically.
"Working with Qnect has been a great experience." - Don Livi, Livi Steel