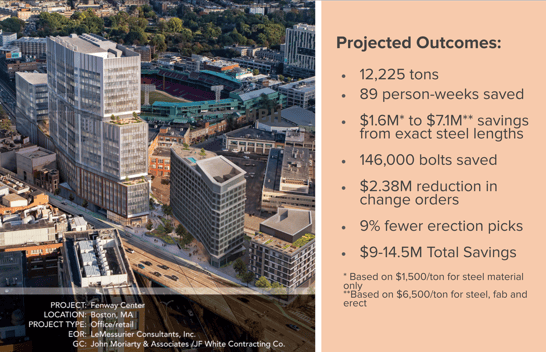 What is Integrated Steel Delivery (ISD)?
Integrated Steel Delivery is a proven project delivery process that integrates structural steel supply chain insights early in design. The process is led by the EOR who performs 100% of the connection engineering and pre-detailing while they do their structural design. Their deliverable is a connected Tekla 3D model that is handed over to the fabricator with a "Right of Reliance" for bidding purposes and to jump start the detailing process.
Why is ISD so compelling?
Better schedule certainty
Risk reduction
Profit enhancement
Fewer RFIs
Embodied carbon reduction
What is Qnect ISD?
Qnect ISD is an EOR-led managed service that amplifies the benefits of ISD with Qnect's patented software. This combination exponentially increases the benefits of ISD and the efficiency of delivering structural steel. With Qnect ISD, EORs continue to use their preferred BIM and design software to do their structural designs. They leave the expertise of using Tekla and doing steel detailing and connection engineering to Qnect's industry experts. EORs have the opportunity to work with the best connection engineers and detailers in the U.S. who use QuickQnect to better optimize the entire steel design to detailing process.
How does Qnect ISD managed services amplify the ISD process?
Qnect ISD managed services provides OPTIMIZATION and INSIGHTS in these five ways:


Code-based Design - Code-based design of framing and steel connections based on AISC COSP and building codes
Constructibility - Selecting the right member sizes and grades can reduce material availability risks, fit up issues and overly expensive connections
Cost - Least tonnage does not equal least cost. Optimizing based on fabrication and erection costs also reduces schedule
Carbon - Existing design rules of thumb to minimize material tonnage may not result in the lowest carbon footprint
Coordination - Coordinate slab edge details between steel and architecture; EOR in-model review of steel connections
How do you benefit as the EOR?
Faster decisions. Because teams have access to patented optimization software that is super fast, they can more quickly iterate through and optimize out waste in minutes versus days.
Insights & Analytics. Early issue detection informs the EOR of potential constructibility risks while they are making their design decisions. This includes capturing supply chain insights around material availability, fabrication and erection impact to reach the lowest carbon footprint.
Easy to Scale. Using ISD is not just for your largest projects. The low barriers to entry and high ROIs makes Qnect ISD worth a lot to your clients and ends up being very profitable on all steel projects big and small for the EOR.
Reliable team. EORs have access to the best connection engineering teams in North America. They have used Qnect or have worked on Qnect ISD delivered projects.

Read more about Qnect's ISD system and 100% connected models.
Read about projects that used Qnect's ISD system.
if you want to contact us, please fill in the form below or schedule a meeting with David Kowalski, our Sr. Account Manager.